Food & Beverages ERP Software
Transform Your Food & Beverages Businesses With NetSuite's ERP Software
#1 Food and Beverage Software for Food and Beverage Companies
NetSuite's cloud ERP system for the food and beverage industry is the best solution of alternative  for inventory and order management, ecommerce, financials and CRM. With our many clients throughout the food and beverage industry, NetSuite's Food ERP Software has experience supporting businesses like yours.
Built for food and beverage
There's more to your company than business management and NetSuite offers a thorough solution that helps your entire organization.
Optimized supply chain
Operate your modern supply chain with NetSuite for control, visibility and planning of your products.
Streamlined sales cycles
360-degree view of the purchaser across all medium and touchpoints.
Transform Your Food and Beverage Business with NetSuite's Food ERP Software
Crm, marketing & promotions
Find and gain new customers, deliver persistent interactions and delight customers with customer service that keeps them contented and coming back for more.
Product data management
Manage all your product data and recipes in one place with simplified design and modify control processes resulting in shortened time to market for new and updated products.
Order management
Take orders with the confidence that you're selling the right product at the appropriate price from the best location to fit your service level responsibility.
Planning and scheduling
Automatically balance requirements and quantity, develop your inventory and manufacturing resources and manage vendors and purchasing process visibility to make sure that you get the best price and delivery combination.
Supply chain
Control, manage and gain visibility of your supply chain, acquisition and materials processes with a whole lot traceability and recall management.
Production control
Construct, deliver, update and observe
;k
jwork orders throughout production or outsourcing processes including the ability to control and manage batches where required.
Wms
Take control of your warehouse with detailed metrics, real-time transactions, optimization strategies and handheld capabilities resulting in increased efficiencies.
Shop floor control
Receive real-time updates from the shop floor via our interactive tablet application including downtime and scrap reasons in addition to using traditional barcoding and managing digital work instructions
Quality management
Deliver the highest quality products with minimal overhead by engaging the entire company with NetSuite's Quality Management solution
Solutions to Fit Your Unique Food and Beverage Needs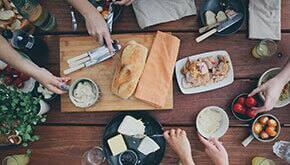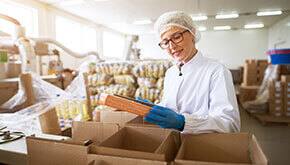 How to Pick an Inventory Management Solution That Scales With Your Business
With the right inventory management solution in place, food and beverage distributors can flex and adapt quickly, regardless of market conditions, challenges or changing business models. Download the white paper to see how a scalable inventory management solution can reduce costs, improve efficiencies and simplify even the most dynamic distribution environments.
NetSuite for Food & Beverage Manufacturers
This solution brief overviews NetSuite's features and functionality specific to food and beverage manufacturers. Download to learn more about the NetSuite advantage and why more and more businesses in the food and beverage space are turning to NetSuite as the solution of choice.
NetSuite for Food & Beverage Distributors
This solution brief overviews NetSuite features and functions specific to food and beverage distributors. Download to learn more about the NetSuite advantage and why more and more businesses in the food and beverage space are turning to NetSuite as the solution of choice